LANAP® protocol (Laser Assisted New Attachment Procedure) has changed the landscape of gum disease treatment. Patients now have an alternative to traditional surgery that is minimally invasive and completely safe and effective.
Differences between Traditional Surgery and LANAP®: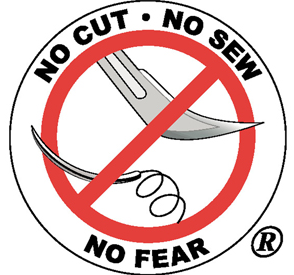 Traditional surgical gum disease treatment requires a scalpel and sutures while laser gum surgery does not. This is especially comforting to patients who feel uneasy about dental surgery.
Dr. Guilliot will cut the healthy gum tissue in traditional surgical gum disease treatment in an effort to see and reach the surgical site better and also to reduce pocket depth. This can cause gum recession. Laser gum surgery does not require the use of a blade nor does it require the alteration of any healthy tissue.
Another difference with the laser gum surgery no cut/no sew method means faster healing times and less down time for our patients. Most patients return to work the day after having this gum disease treatment.
Laser gum surgery can regenerate bone. During the gum disease treatment, the laser is used to stimulate the soft tissue, bone, and tooth root, which acts as a catalyst for bone regeneration. This can result in a reversal that enables you to save teeth that may not have been salvageable with traditional surgical gum disease treatment.
After laser gum surgery, you will experience up to a 90% reduction in inflammation on the same day you have the gum disease treatment due to the fact that the laser selectively eliminates bacteria and diseased tissue only.
Laser Gum Surgery vs. Traditional Gum Surgery Lafayette, LAChoosing LANAP® Laser Gum Surgery as Your Gum Disease Treatment in Lafayette, LA
Laser gum surgery is far less impactful to our patient's health and lifestyle. As a gum disease treatment, there are no contraindications which means that it is a safe solution for our patients who are currently under a physician's care and are taking prescription medication.
LANAP® laser gum surgery is performed in two sessions of two hours each by a dentist who is certified to perform the surgery. Dr. Albert J. Guilliot is trained and certified to successfully offer this effective laser gum surgery as a gum disease treatment option to our patients.
Dr. J. Albert Guilliot, located in Lafayette, LA, is a Dentist who services patients from Rayne, LA, Breaux Bridge, LA, and Carencro, LA. We are looking forward to welcoming you to our office and encourage you to schedule your appointment today!
Insurance Providers accepted:
In-network with Cigna, Always Care, Sunlife Financial, and MetLife.
Medicaid is only accepted for adult dentures at the Downtown Lafayette location.